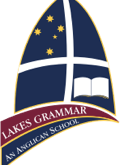 Cnr Sparks Road & Albert Warner Drive, Warnervale NSW 2259, Australia
53 Albert Warner Drive
Warnervale
New South Wales
2259
AU
Lakes Grammar is an Independent Anglican School for boys and girls from Kindergarten through to Year 12. The school has two distinct spaces, Junior School (K to 6) and Senior School (7 to 12), providing our students with the tailored environments they each need to grow and develop throughout their schooling years.
Our school is blessed to be set in a location surrounded by bushland and open space at the northern end of the Central Coast.
We seek to set each of our students on the path to lifelong learning and create an environment that is caring and nurturing as we believe education is about the "whole person". Each child is identified as being unique and different – each learning and inspired in different ways.