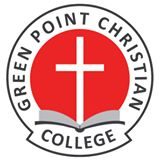 382 Avoca Dr, Green Point NSW 2251, Australia
379 Avoca Drive
Green Point
New South Wales
2251
AU
We are a Kindergarten to Year 12 school, situated on the beautiful Central Coast of NSW, catering for approximately 1100 students. Green Point Christian College offers education to children of families who wish to see Biblical principles and Christian values supported in their child's learning. The College encourages the fullest possible development of the spiritual, social, intellectual, cultural and physical potential of each student.
We live in a challenging society and the world that your children inherit will be very different to the one your generation experienced. We believe it is critical that education is seen as more than academic excellence, as the spiritual, physical and social development of your child is also critical.
Our parents are a vital part of our community and have a special role to play in their child's education. We view the College as an extension of the home and we are here to assist parents in the education of their children. Our College Vision shows how we intend to reach that goal…"Excellence in Christ-centered education".