The Costs of Working in Australia
By: Mark McCrindle
In a world marked by the proliferation of hybrid work models and newfound opportunities to either work from the comfort of our homes or the traditional office, the true costs to work and the finances associated are unveiled.
Australians are dedicating substantial portions of their income to working. In Australia, this involves significant hidden costs beyond basic salaries, with expenses like transportation, lunches, education, and childcare weighing heavily on individuals and families. Each year, an average of $2,820 is funnelled into transport, $2,436 into lunches, $685 into education, and $420 into clothing for the purposes of working.
For those juggling the responsibilities of parenthood, the heaviest financial burden in the form of childcare expenses sits with parents. The average Australian with children spends a staggering $12,229 of their annual income on childcare, which constitutes 22% of their after-tax earnings, on childcare. In essence, these costs accumulate to a total of $18,588, indicating that Australian parents relying on childcare are allocating one-third (33%) of their post-tax income towards the expenses associated with work.
For those Australians who either do not have children or are not incurring childcare expenses, the annual expenditure to maintain their work amounts to an average of $6,359, translating to 11% of their post-tax earnings.
As we navigate this evolving work landscape, it's crucial to recognise the broader financial implications of our professional lives and seek more sustainable solutions to address these burdens for Australians.
Hybrid work and the household budget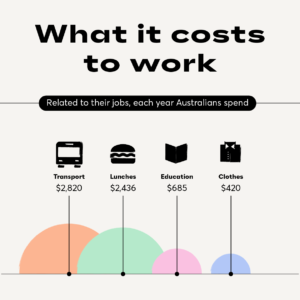 In the context of the evolving work ecosystem, more than two in five Australian workers (45%) have embraced hybrid work arrangements, while 44% remain in the traditional office setting, and 10% work remotely all the time. More than half of those who commute to the workplace (56%) find that it has a significant or somewhat significant effect on their overall finances.
Hybrid and remote workers have encountered additional costs associated with working from home. Close to two in five (37%) have incurred expenses related to increased home office equipment, 35% invested in purchasing or upgrading technology devices, and 34% faced higher internet or data costs.
As hybrid and remote work arrangements continue to shape the modern workplace, the burden of footing the bill for home office expenses becomes increasingly evident. While some of these costs may be eligible for tax deductions, the fact that workers have incurred expenses related to home office equipment, technology upgrades, and increased internet costs highlights the financial implications for employees in maintaining an effective remote work environment.
Workplace vs. remote working: is one cheaper?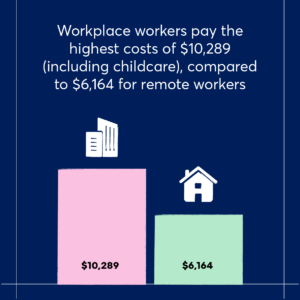 Workplace workers pay the highest costs of $10,289 (including childcare), compared to $6,164 for remote workers. While some costs were expected to be offset when working from home, the reverse appears true. While workplace workers spend an average of $56 per week on transport, remote workers still spend $34 on transport to work.
Workplace workers spend the highest amount on lunches at work, at an average of $41 per week (compared to $35 for remote workers). When it comes to clothing, workplace workers invest an average of $302 per year, whereas remote workers spend slightly less at $228.
To further their skills and expertise, remote workers spend the most on furthering their education for employment reasons. In the last 12 months, remote workers spent an average of $877 on education while workplace workers spent $642.
So, while remote workers are devoting more of their income to developing their skills and expertise through education, it is the weekly expenses which workplace workers are spending the most on.
Childcare for workplace workers
For working parents, the added expense of childcare cannot be overlooked. Workplace workers face the heftiest childcare costs, averaging $99 per week, while their remote counterparts pay just $36. These variations could result from multiple scenarios, including one parent caring for children while the other works or remote workers juggling both work and childcare responsibilities. Still, the workplace worker parents bear a more substantial financial burden for childcare.
In an ever-transforming work landscape, Australians are discovering that the journey from home to workplace, or in remote work, comes with significant financial tolls. Before a single dollar is earned, Australians find themselves financially invested in working. From the daily commute and lunches to educational pursuits and clothing essentials, the financial burdens are evident. Parents, in particular, bear the brunt, with childcare expenses akin to a third of their after-tax income. The reality is evident: the price of participation in the workforce is significant. As the work landscape continues to evolve, addressing these financial realities takes on newfound importance, ushering in a future where the cost of working becomes a central consideration in employment choices.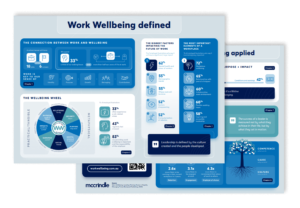 Work Wellbeing Infographic
Explore the key insights from the book
---
Article supplied with thanks to McCrindle.
About the Author: McCrindle are a team of researchers and communications specialists who discover insights, and tell the story of Australians – what we do, and who we are.
Feature image: Photo by Olena Bohovyk on Unsplash
https://www.rhema.cc/wp-content/uploads/2023/11/Work-desk-by-Olena-Bohovyk-Unsplash.jpg
628
1200
Rhema Central Coast
https://www.rhema.cc/wp-content/uploads/2019/04/ColourLogo340156-300x138.png
Rhema Central Coast
2023-11-10 08:05:58
2023-11-12 14:51:12
The Costs of Working in Australia