Finding Humanity Despite Artificial Intelligence, in 'Foe' [Movie Review]
By: Russ Matthews
What makes Garth Davis' interpretation of Iain Reid's novel fascinating is how they delve into the discussion of artificial intelligence without excessive CGI or a city ripped apart by the division of species.
To set this story on the plains of the Midwest and show its effects on one couple is compelling and may cause many to yearn for lasers and robots. Yet, despite all of the naysayers in the world who celebrate Barbie, while trashing this film, I hope to bring a different perspective.
The year is 2065 ,and the earth's resources have hit their limit. Humanity is forced into the world's cities, and there is a movement to establish colonies on space stations, Mars and the Moon. Those who remain in the rural parts of the earth are relegated to working on hybrid farms and working in factories of mass food production. There is a new workforce of humanoids developed by the government who are relegated to do work that no person would want to do anymore. Junior (Paul Mescal) and Henrietta (Saoirse Ronan) have lived on the family farm for years and plan to remain in this isolated existence for the foreseeable future. That is until a government agent named Terrance (Aaron Pierre) arrives to inform Junior that he has been conscripted to work on the newest space station for a year. Also, he will be studied as the government plans to place a humanoid on the property to put the couple's concerns at ease and to help Henrietta for the year.
When it comes to films about artificial intelligence, those that usually go on to success involve great battles and computer-generated creations. Yet, this does not suit the style of writer/director Garth Davis, known for his methodical human dramas such as Lion and Mary Magdalene. Then to team him with Iain Reid whose novel is reminiscent of Hugh Howey's Silo, this pairing is destined to make an arthouse film that happens to involve symbiotes. Suppose the audience knows this going into the film. In that case, they can appreciate the subtlety and measured pacing reminiscent of these artists' works. They are not trying to rival Interstellar or Blade Runner; instead, they give the impression that they are attempting to unearth the humanity of this couple by testing the very core of their relationship.
Saoirse Ronan and Paul Mescal are marvellous together as they portray this couple who have been put into an exceptional situation that would test the mettle of any marriage. As the screenplay hides much of the mysterious undertones that define this twisted tale, these actors manage to toe the line between a deep-seated love and an utter distaste for one another throughout the film. Their performances were guided by the unique direction of Davis, who has proven to find a more profound level in all of his actors. This depth can be seen in the portrayal of the unknown government figure played by Aaron Pierre, who simultaneously borders on fascinating and eerie. All three are meant to keep the viewer guessing until the end as these characters move through the story unhurriedly.
Reminiscent of Jeff Nichols' Midnight Special and Kogonada's After Yang, Garth Davis has made a film that may be difficult to define. Yet, if the audience allows themselves to be immersed in this world created by Iain Reid, they will be rewarded in the end. Foe is a film that manages to discover the human heart in a world that has lost hope in humanity within a story that proves that artificial intelligence may not be the answer to all that ails society.
Reel Dialogue: What does it mean to be human?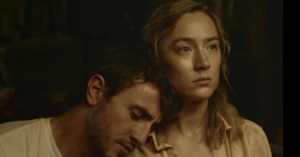 One discussion point through Garth Davis' Foe is what it means to be human. Is it merely emotions, our physicality, or key relationships, or is there something more significant about life as a human?
We can understand from the Bible how God made humanity different from the rest of creation. Sure, people have physical bodies, but a spiritual element makes us unique: we have a soul and/or spirit. Within this characteristic of the human experience, we can identify intellect, emotion, and a will. To take it even deeper, the words of God show how men and women are made in the image of God; the theological term is imago dei.
Not that humans are divine, but this does mean we are a mere reflection of the creator. As image-bearers of God, we can be creative, make music, and all types of artwork, amongst other amazing things. These skills manifest in language, self-awareness, care for others, and learning. This merely scratches the surface of what it is to be human; there are other elements to consider. Purpose, morality, sin, and the need of a Saviour.
"So God created man in his own image, in the image of God he created him; male and female he created them." – Genesis 1:27
If you want to discuss what it means to be human, contact us at Third Space. We would love to chat about this and more.
---
Article supplied with thanks to City Bible Forum.
All images: Movie stills
About the author: Russ Matthews is a film critic at City Bible Forum and Reel Dialogue. He has a passion for film and sparking spiritual conversations.
https://www.rhema.cc/wp-content/uploads/2023/11/Saoirse-Ronan-and-Paul-Mescal-in-Foe-2023.jpg
628
1200
Rhema Central Coast
https://www.rhema.cc/wp-content/uploads/2019/04/ColourLogo340156-300x138.png
Rhema Central Coast
2023-11-07 16:07:38
2023-11-07 17:08:51
Finding Humanity Despite Artificial Intelligence, in 'Foe' [Movie Review]