'Pain Hustlers' Lifts the Lid on Corporate Greed [Movie Review]
By: Russ Matthews
As a former pharmaceutical representative, films like Pain Hustlers tend to make me cringe as they lean into the unethical minority of the industry.
Admittedly, salespeople are pushed to the limit when making a sale, but contrary to popular belief, most choose not to cross the line. Yet, those who decide to venture into unprofessional practices that lead to quick money and legal problems are the ones who get noticed by the media.
Journalist and author Evan Hughes wrote extensively on the unethical practices of a small Central Florida pharmaceutical company that persuaded doctors to prescribe opioids outside of their prescribed indications. Netflix produced this film that depicts the over-the-top tactics of this team of representatives who used a speaking program to subsidise the doctors willing to prescribe their drug. Emily Blunt (Oppenheimer) plays Liza Drake, who went from being a high school dropout and stripper to becoming the top sales manager for their burgeoning opioid empire. Her motivation was to care for her epileptic daughter, who desperately needed care, and help their family to rise above their near-homeless status.
After meeting the drug representative at the local strip club, the unscrupulous Peter Brenner (Chris Evans) decided to give the charming woman a chance in the business. Initially, nothing was going right until they convinced Dr James Lydell (Brian d'Arcy James) to begin changing his patients over their product. This led to a groundswell of doctors prescribing their drug, and motivated Dr Jack Neel (Andy Garcia), the company's founder, to get behind his team's practices. Yet, as the company grew, it drew the attention of the US government, which began to evaluate the ethical nature of its sales practices.
The opioid epidemic has given the film industry the perfect villain, with Big Pharma filling the role nicely, while showing the devastating effects of this crisis. Dopesick, Painkiller, and many documentaries have swung the door wide open for Hollywood to deservedly vilify this industry that has gotten generations addicted to painkillers. It is no wonder that Evan Hughes' book would be optioned for a film that plays out like a pharmaceutical version of The Wolf of Wall Street. Yet, David Yates (The Harry Potter/Fantastic Beasts franchises) proves that he wasn't willing to take it to the level of Martin Scorsese, and this drug-laden tale garners few surprises that hasn't already been seen about corporate greed.
Emily Blunt and Chris Evans do their best with what they are given in Wells Tower's screenplay. They are a handsome pair convincing in these roles as morally flexible sales reps. Still, they're never allowed to go far enough to be considered purely evil. Andy Garcia digs into his character with convincing form, but is relegated to mere eccentricities by the end, where he too comes off as corrupt, but not as cut-throat as expected. This leaves the rest of the cast, including Catherine O'Hara (Shitt's Creek), who are mere window dressing and are left to walk in slow motion into doctor's offices as an army of greedy, sex-starved salespeople.
To be fair to the industry, the true intent of these companies is to make life better for patients. Granted, they hope to make money, but most do their best to stay within government regulations. On the other side of things, Pain Hustlers manages to uncover a company that went beyond the rules, and they paid the price. It is a compelling story, but little of this film offers anything new to the cinematic world about corporate corruption. There's no pill can fix this problem.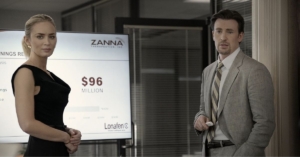 Reel Dialogue: Conscience
Early on in Liza Drake's story, her conscience is set aside because of her desperation to find work and care for her daughter. Yet, after some time in the industry, she realises that their work is causing people pain in their lives to the point of death. The pharmaceutical rep remains quiet initially until her silence becomes a weight on her shoulders that she must unburden herself from in the end.
In a world filled with things that may rub against our conscience, we risk ignoring the internal alarm bells and potentially cauterise our consciences. The very thing that can help us live God's way. It is not merely enough to just turn a blind eye and ignore the wrong things. We should rebuke evil and stand for truth.
Do not repay anyone evil for evil. Be careful to do what is right in the eyes of everyone. – Romans 12:17
If you would like to discuss the effects of ethics on your conscience, reach out to us at Third Space. We would love to chat with you about this and more.
---
Article supplied with thanks to City Bible Forum.
All images: Movie stills
About the author: Russ Matthews is a film critic at City Bible Forum and Reel Dialogue. He has a passion for film and sparking spiritual conversations.
https://www.rhema.cc/wp-content/uploads/2023/11/Chris-Evans-Andy-Garcia-and-Emily-Blunt-in-Pain-Hustlers.jpg
628
1200
Rhema Central Coast
https://www.rhema.cc/wp-content/uploads/2019/04/ColourLogo340156-300x138.png
Rhema Central Coast
2023-11-11 15:03:28
2023-11-12 14:51:12
'Pain Hustlers' Lifts the Lid on Corporate Greed [Movie Review]