Hybrid Worker FOMO and Emerging Trends in the New World of Work
By: Mark McCrindle
In a post-COVID era where Australians have become adept at juggling hybrid work, remote setups, and traditional office routines, the choice of where to work is no longer just about logistics.
Workers are becoming increasingly aware of the hidden consequences of working remotely compared to working from their workplace.
Superiofficey: the perceived superiority of being in the office
Australian workers who work from their workplace are experiencing 'Superiofficey', a recognition and sense of superiority for making the effort to come to their workplace.
Almost three in five Australian workers (59%) indicated they have a sneaking suspicion that those working in the workplace get better opportunities than those working from home. This belief is particularly true for those who are hybrid workers (67% compared to 50% workplace workers, 54% remote workers).
In fact, seven in ten Australian workers (70%) indicated that working in the workplace leads to a greater sense of recognition and appreciation of their efforts to commute to the workplace compared to working from home. This is especially true for workers who are at their workplace all of the time (72%).
In this new world of work post COVID-19, workers are delineating socially, between those who are working from home and those commuting.
Video-conference FOMO: hybrid workers and the fear of missing out
Many Australian workers are experiencing Video-conference FOMO, that is those who are working remotely have a fear of missing out on what is happening during and after a video conference for those who are at the workplace. This is becoming a real phenomenon for hybrid workers and remote workers alike.
In a given work day, hybrid workers experience the most post-video conference FOMO – the fear of missing out on the conversations that take place after a video conference meeting. For those who take video calls from home, almost three in five hybrid workers (57%) indicate that they're worried about missing out on discussions after a call ends (compared to 28% workplace workers, 47% remote workers). Even more so, these workers also feel that they are missing out on the side conversations and comments during the meeting that take place for those in person (65% compared to 30% workplace workers, 45% remote workers).
Workers are querying what conversations they're missing out on after the call and if they are important; and simultaneously watching side conversations happening at the workplace during a video conference that they're missing out on. While hybrid work has its benefits for connecting when commuting isn't possible, the bias towards being present at the workplace doesn't allow for remote workers to have the complete same experience.
Presentivity: the productivity power of physical presence
While hybrid workers have experienced the social effects when they're not at the workplace, Aussie workers agree that there is greater efficiency when they gather in the workplace.
Two thirds of Australian workers (67%) experience "Presentivity", whereby they find greater team productivity when gathering with colleagues, as they easily solve problems and make decisions compared to when working from home. This is particularly true for workers who work at the workplace all of the time (70%) and hybrid workers (71%) (compared to 45% remote workers).
As Australians navigate this new world of work, it becomes evident that the workplace is not just a physical location but a dynamic social arena, where recognition, opportunities, and collaborative energy converge, shaping a narrative that transcends the confines of remote screens.
Work Wellbeing Infographic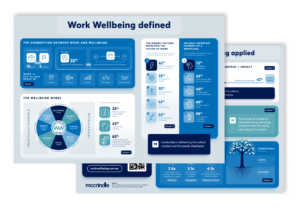 Explore the key insights from the book
---
Article supplied with thanks to McCrindle.
About the Author: McCrindle are a team of researchers and communications specialists who discover insights, and tell the story of Australians – what we do, and who we are.
Feature image: Photo by Chris Montgomery on Unsplash
https://www.rhema.cc/wp-content/uploads/2023/11/Video-Conferencing-on-laptop.jpg
628
1200
Rhema Central Coast
https://www.rhema.cc/wp-content/uploads/2019/04/ColourLogo340156-300x138.png
Rhema Central Coast
2023-11-16 08:40:43
2023-11-17 09:29:16
Hybrid Worker FOMO and Emerging Trends in the New World of Work